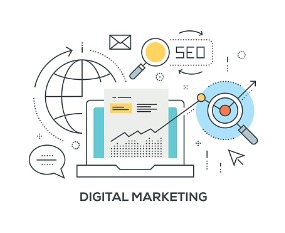 Dominate the Internet with the Best Internet Marketing Agency for Tampa FL
Throughout history, the ways we market ourselves and our businesses have evolved. From print to radio to television, and now the internet! And with as crucial a tool the internet has become for consumers, businesses need to put a portion of their marketing online. Thus, the need for an experienced internet marketing agency in Tampa FL is great! And with 309 Marketing, you can achieve all your marketing and advertising goals online.
The Key Components of Internet Marketing
Internet marketing takes more than placing a few ads on websites (although that is one component). By promoting your business through engaging content, social media, video advertising, getting reviews, and much more, you take advantage of the key components of internet marketing. Thankfully, 309 Marketing is well versed in every aspect of a digital marketing strategy.
Search Engine Marketing – If looking to get your brand online and recognized by Google and other search engines quickly, search engine marketing (SEM) is the way to go. Through SEM, you can place ads for your business at the top of Google and throughout the internet on various web pages. This advertising method is also beneficial for those who wish to target a specific audience or demographics.
Search Engine Optimization – When playing the long game in online marketing, we recommend our clients invest in search engine optimization (SEO). In creating relevant, highly optimized content for your website, we push your organic ranking Google to the top of search results. Throughout your campaign, we target keywords that best relate to your services and the audience you wish to attract.
Review Management & Generation – Before purchasing a product or service, most internet users like to research beforehand. And much of that research is done by analyzing reviews for your business. However, if no reviews can be found, your business might seem too new or less credible than most! Thankfully, 309 Marketing offers services geared towards generating new reviews and managing the reviews you already have.
Additional Services – There are numerous avenues for boosting your online presence and advertising your brand beyond SEM, SEM and reviews. For example, ensuring you are active on social media can lend to your credibility and allow you to interact directly with your customers. Or, programmatic video allows you to place creative and engaging video ads at the beginning or end of content your audience consumers. In talking with our online marketing agency for Tampa FL, we'll help you discover the digital marketing strategies that can work best for your business.
Call Our Office
Investing in your business's online presence is crucial to your success in the internet age. Thus, you can benefit significantly from the services of an experienced internet marketing agency for Tampa FL. Be sure to give the digital experts at 309 Marketing a call today! You can contact us at 813-461-5095 or reach us via our online form.