Whether you want an ecommerce store, more leads or an aesthetically pleasing website that matches your brand, 309Marketing is here for you. Web design Galesburg IL business owners need combines functionality and innovation. You wouldn't neglect your property or forgo repairs, so why have a website that looks outdated and gives consumers a poor representation of your company?
Web Design Galesburg IL Businesses Need
When hiring a web design company, remember that even the best design doesn't bring customers to your company. For this, your website needs to include:
Search Engine Optimization (SEO) to get your site ranked on page #1 of Google
The functionality you and your customers require
UX Design so users can easily navigate your website
Driving people to your site is half the battle. Getting them to stay and connect is the other half. Good web design elements will improve the odds that people will engage in your site.
All of these contribute to you getting more leads and more sales. If users can find your site, easily navigate it and get all the information they need, your website can be your best salesperson! Your site will work 24/7 to find leads, as long as it is built for success.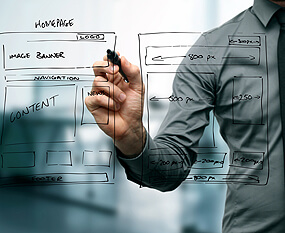 Step-By-Step Web Development
When you hire us for your web design, we take that responsibility seriously. We will work with you on the design so it represents your company just as well as you would. Then we will make sure the content on your site matches the keywords you want to rank high on search engines for. Lastly, your website will have the functionality your customers expect and will look great on every screen size.
For web design Galesburg IL business owners can be proud of, contact 309Marketing online or call 309-228-9640 today. We'll use top-of-the-line web design tools to get you the image you want in addition to the functionality you deserve.