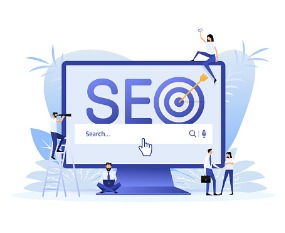 Increase Your Web Presence with the Best SEO Companies in Peoria IL
When growing your business's brand and online presence, having a highly functional and creative website is only one piece of the puzzle. While having a website ensures potential customers have somewhere to see your business online, it doesn't do much good if there's no traffic to your site. Thankfully, there are effective ways to drive potential new customers and clients to your website: a dedicated search engine optimization (SEO) strategy. Manage your website's SEO with the best SEO companies in Peoria IL; call 309 Marketing today!
Why Do You Need SEO?
SEO is becoming increasingly crucial for websites to have. With a growing number of businesses developing their online presence, SEO is one of the best ways to get your company to stand out. And with help from SEO experts like 309 Marketing, you can expect exceptional results from your SEO campaign.
Be Seen at the Top of Search Results

Where do you turn to for answers when you look for a product or service or have a specific question? Most people will likely tell you Google. With Google's dominance among search engines, having your website appear towards the top of search results is the best way to have your business seen. Thanks to SEO, we create content that helps promote the relevance of your website, increasing the likelihood it ranks higher in organic search results.

Increase Your Website's Relevance

Why should a potential customer trust your company over another company offering similar services? Not only must your website convince online visitors of its credibility, but it must also convince Google. Otherwise, search engines will see no reason to list your website at the top of search results. Through SEO, 309 Marketing can create a wealth of credible, detailed content to boost your brand, credibility, and domain authority.

Learn More About Your Target Audience

Sometimes, SEO is a little about trial and error. 309 Marketing has access to a wide variety of tools and programs that help us determine the keywords and topics your audience is searching for. In response, we create SEO targeted explicitly at those keywords, playing into the current trends of online consumers. This proves advantageous for your website's visibility and helps you better understand what your target audience searches for.
The More Digital Marketing, the Better!
With help from the best SEO companies for Peoria IL, there's no doubt your website will see increased traffic! However, as essential as search engine optimization is for your company's website, it isn't the only digital marketing service that can help you attract leads. When working with 309 Marketing, we help develop your web presence through various marketing programs and advertising campaigns focused on digital services like:
Or, if you want to take a more traditional marketing approach, 309 Marketing can help promote your business through radio, television, direct mail, graphic design, video production, and more.
Contact Our Office
With support from the best SEO companies in Peoria IL, you can see your business website's web traffic take off! Get your SEO campaign started right with the expert digital marketers at 309 Marketing. To learn more about our company or services, contact us today at 309-213-9398. 309 Marketing's Illinois office is located at 311 SW Water St, Unit 201, Peoria, IL 61602.