How Your Business Benefits from Adding Live Chat in Peoria IL
309 Marketing can help your business engage and covert more online customers with live chat in Peoria IL. Give us a call today at 309-228-9640 for a free consultation with our digital marketing experts.
Recent digital marketing research shows that 62% of online customers are more likely to return to a website that offers live chat. Plus, 38% of online users stated that they made their purchase due to the chat session itself. In fact, the importance of live chat as a business marketing channel continues to grow as other channels such as email, social media, and phone traffic have stagnated or lost power in lead generation.
Contact us now to get a free quote on adding live chat in Peoria IL. Customers use live chat as a convenient and instant way to conduct research on products and service they need. Therefore, you can quickly grow your business by using 309 Marketing live chat services to provide customers with a 24-hour support service to answer their questions.
1.Customers Prefer Using Live Chat in Peoria IL
Recent marketing research indicates that live chat provides more customers with an online communication channel they prefer to use. In fact, 46% of online users stated they prefer live chat. Meanwhile, that number compares favorably to the 29% of customers who prefer email and 16% who prefer social media. They prefer live chat because of the following:
Faster Response Times – Live chat services allow support staff to respond quicker to customer inquiries by using canned responses, tags, and handling multiple conversions that reduce queue time.
Reduction of Touchpoints – Live chat provides immediate feedback on customer issues or requirements. As a result, it allows your business to align services to meet client expectations. Also, live chat enables your company to offer the right solution effectively and reduce the number of touchpoints.
Faster Solutions – Live chat allows customers to get their question answered or issues solved with more efficiency. In fact, no other service allows businesses to better improve their first contact resolution rate.
2.Engage Customers 24/7 with Live Chat in Peoria IL
309 Marketing automated live chat services can provide help to your customers around the clock. Consequently, this helps your business do the following:
Reduce Outstanding Customer Support Issues – Since live chat allows your customers to get answers 24 hours a day, you reduce the time it takes to respond to issues. The automated live chat can handle general inquiries and basic questions for your staff.
Automate Qualification of Leads – Live chat allows you to better qualify leads by having customers answer a series of sales questions. As a result, the chat can direct leads to relevant sales staff members or schedule appointments.
Save Your Staff Some Time – Live chats can handle many of the basic frequently asked questions that you and your staff receive on a repeated basis. Plus, the chats can direct the customers who need a more complex answer or solution.
3.Stay Ahead of Your Competition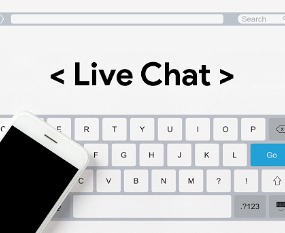 While live chat is becoming more popular, many of your local competitors have not adopted it as a business marketing channel. Therefore, you can gain a competitive edge and market share by being the first to offer this service to customers. Your responsiveness and customer support through a chat dialogue can provide your customers with a better experience to encourage brand loyalty.
Contact to Us for Live Chat in Peoria IL
Let 309 Marketing grow your business with innovative digital marketing solutions like live chat in Peoria IL. Call us today at 309-228-9640 or request a free consultation online. Also, you can stop by our office located at 311 SW Water Street, Unit 201 Peoria, IL 61602.