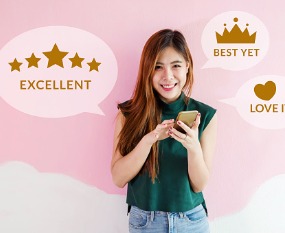 Improve Your Online Reputation with Review Management in Naperville IL
Your trusted local digital marketing experts at 309 Marketing can improve the reputation of your business with review management in Naperville IL. Call us at 847-906-2287 to tell us how we can enhance your client relations today.
The internet has forever impacted how businesses interact with customers and sell their products and services. Most potential clients encounter your business on a Google search before they ever step foot in your storefront. They judge the reliability and value of your business based solely on a brief amount of information they find at the top of search results. Consequently, negative online reviews at the top of Google or posted on social media can ruin the reputation of your business.
We can make sure one bad experience with a customer will not hurt your chances to attract new leads. 309 Marketing can suppress or remove harmful reviews about your business with review management in Schaumburg IL. Also, we can push the reviews you want your target audience to see to the top of search results with our review generation services.
Contact us online today to take back control of your reputation online.
Top Benefits of Review Management in Schaumburg IL
You cannot control changes on the internet. Content constantly changes and evolves there every day. You have a business to run, so tracking all the feedback your business gets online becomes an impossible job. You simply cannot react to every customer when they interact online with your business. Luckily, 309 Marketing can handle that for you with our review management in Naperville IL. Here are the biggest advantages of our review management service:
We Give You Back More Time
309 Marketing can free you up to get back to running your business instead of constantly worrying about online reviews. That way you can rest assured that your customers get better experiences with your brand online. A bad experience often results in a scathing review, and that negative review sends potential customers running away from your business.
309 Marketing can pick up the slack. Our digital marketing professionals can answer questions, schedule appointments, send reminders, collect reviews, and get positive testimonials for you. Then, our review generation service makes sure your target audience gets to see all the good things people have to say about your business.
We Form a Positive Perception for Your Business
Consumers used to rely on word-of-mouth endorsements, but the digital marketplace has changed all that. Did you know that 88 percent of online leads trust reviews as much or more than recommendations from family and friends?
Your target audience makes one Google search and that is often all the information they need to judge whether they want to do business with you. 309 Marketing can ensure those leads see the reviews that sell your business for you in highly visible spots on Google, Facebook, Twitter, and other social media. Also, we suppress or remove negative reviews with our review management in Naperville IL.
We Make You Easier to Find with Improved Local Search Engine Optimization (SEO)
Managing online reviews benefits you two ways. The obvious way it helps is by putting unbiased, third-party endorsements of your business in a position to sell your potential customers on your products or services. The other way it helps is it improves your local SEO. Good reviews ensure that Google views you not only as a legitimate business but also as a quality community resource to trust. As a result, it ranks all your content more favorably on search engine results pages.
Contact Us for Review Management in Naperville IL
309 Marketing can improve your reputation online, increase visibility of positive reviews, and enhance your local SEO with review management in Naperville IL. Call us today at 847-906-2287 for a free consultation to get started. You can also contact us online for a free quote.