Our Origins Begins with Website Design for St. Petersburg FL
Since starting our business at 309 Marketing, we've expanded to a full array of agency services. However, our origins are in website design for St. Petersburg FL. We can help you maximize your Internet market and interactions with customers, and it's what has driven us through the years. Our vast experience in a multitude of industries allows us to understand what would be familiar with potential customer bases and how people who visit websites like to interact with them. We're ready to help your business find greater success.
Your Website Represents You
You used to be able to sit in your office and represent your business when clients visited. But today, you need a website that can do that work for you. At 309 Marketing, we've been developing websites for decades and we know how to listen to you to help you achieve the website that best represents you and your business. In addition to finding ways to drive people to your website. We also offer agency services that will help them to stay on the site once they are there. Developing content that engages visitors is a key component of how we can take care of you.
Furthermore, our decades of experience ensures we'll provide you with detailed insights through every stage of the process. Whether it's design, strategy, or implementation, our team will take you to the next level. When you need website design in St. Petersburg FL, 309 Marketing is the first and only call you should make.
Services We Offer
In addition to designing and creating your website, the team at 309 Marketing can help with so much more. We are a full-service advertising agency that can help drive traffic a multitude of ways. Through mobile development, we will make sure that technical issues don't keep people from interacting with your business. And through search engine optimization and social media promotion, we can make your business more visible to the people you want to find. We can also help you develop an e-commerce site that you know is safe and secure for your customers to use.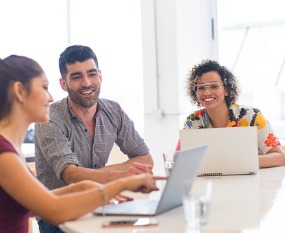 Let's Get Started Today
Every day you're not maximizing the online market is a day you're missing out on money. Call our team today at 813-461-5093 to see how we can help you with your website design in St. Petersburg FL. You can even sign up for our newsletter to stay updated on what we are doing. And we always offer a 24-hour chat feature so anytime questions arise you'll be able to get them addressed. We look forward to meeting with you.