A New Website Starts with a Web Design Company for Schaumburg IL
Does your business lack an online presence? Is your current company website old and outdated? Are you not happy with recent website development? You're not alone! Businesses across Illinois are always looking for ways to stay relevant and ahead of their competition; one of the best ways to do both is having a website! However, not "just any" website will do. You need a fully-optimized, expertly designed website created by a professional web design company for Schaumburg IL. In other words, you need the service of 309 Marketing!
Why You Need a Professional
More and more, the tools needed for creating a website have become accessible to consumers. And for those willing to learn and take the time to develop a website, this is great news! However, you can miss plenty if designing a website for the first time. Not to mention, not every DIY website builder is as "custom" as you might think. With a web design company in Schaumburg IL, you can expect:
More Flexibility – Unfortunately, when using DIY website builders to design your site, you're limited to their tools and templates. Web design companies are not bound by such restrictions, able to customize your site in any way you wish.
Higher Quality – If having a site built through an online program or freelance developer, the quality of your website isn't guaranteed. That's why leaving the design of your site to experts is the preferred option. We use expert designers, developers and writers to create a sleek, professional, easy-to-navigate interface with all our websites.
Local Expertise – If building a website, it's worth considering having it designed by local professionals. Local experience and expertise allow web design companies to create sites that take cues from local trends, customer preferences, and direct competitors.
Greater Support – When hiring freelancers or doing the work yourself, you lack crucial support for your new website. And any support you might receive can be slow to come or not wholly helpful. That's why 309 Marketing goes to great lengths to support our website clients, even after launching a site.
The Web Services Your Business Needs
After developing your website, online marketing doesn't stop there! With help from 309 Marketing, businesses can apply effective digital marketing campaigns to boost website visits, generate leads, and build their brand. Our expert marketing team helps clients through services like: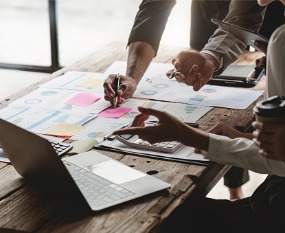 Call 309 Marketing Today!
The best local web design company for Schaumburg IL is only a call away! Boost your business's online presence with help from the website experts at 309 Marketing! To learn more about our services or request a quote, call 309-213-9398. We are located at 311 SW Water St, Unit 201, Peoria, IL 61602.